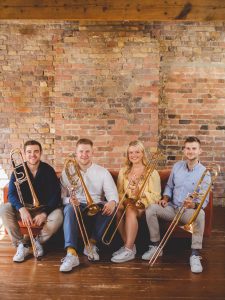 Our penultimate concert of our tour was Ayr. We took a detour on our shortest drive so far to go to Grey Mare's Tail and walk up to the waterfall. This was beautiful and was fantastic to get some fresh air and exercise as so far we had only been driving and eating lots! We were now ready to head to Ayr via our premiere inn.
We quickly checked in and packed our bags before going to the hall. We set up in the church hall and started a quick rehearsal that was great! We then chilled out by going for a walk on the chilly coast and sharing funny videos on Instagram which helps us relax and calm nerves before the concert. We had some tasty meals brought to us by the lovely people of the club.
The concert was a great success, in the hall we had a very good audience filled with club member, students, family and trombone friends! The audience was very encouraging and were very easy to interact with and created a really great atmosphere! After the concert, we mingled with our audience and sold some CDs whilst also having some photos taken of us for the local paper!
We then headed back to our premier inn for some refreshing drinks and a local takeaway to get us ready for our last day of the tour, Dunblane.