Who we are & what we do!
| | | | |
| --- | --- | --- | --- |
| | John Tunnell | Wendy Tunnell | |
The John Tunnell Trust was formed in 1988 by family members, colleagues and friends of the late John Tunnell, OBE, the founder leader of the Scottish Chamber Orchestra.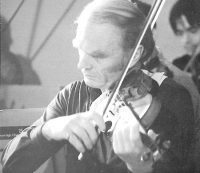 The Trust has assisted young professional chamber music ensembles and Scottish Music Clubs by running its Music Club Awards Scheme whereby the Trust pays the fees of outstanding young groups to play at Music Clubs all over Scotland with an emphasis on helping Clubs in small and remote places as well as in the major centres. By the end of the next season the Tunnell Trust will have assisted 120 groups and sponsored 755 concerts in 84 different music club venues. Young groups are selected annually at auditions held in London.
In 1993 Wendy, John's widow, set up the Young Musicians' Trust wishing to do even more to promote young musicians. She ran the Trust almost single handed until her untimely death in 1998. In 1999 the two trusts merged to become the Tunnell Trust.
The Young Musicians' Trust founded its own series of concerts in country houses, schools and other venues and staged an annual study and performance week at Strathgarry in Perthshire, Scotland whilst winning extraordinary support from many high profile sponsors. More recently the course moved to Blair Atholl and in 2013 it found a new home on the stunning Isle of Coll in the Inner Hebrides. Music Coll 2023, our 9th visit to Coll, took place from 25th June to 3rd July.
We have been able to provide much needed performing opportunities for Young Musicians at the outset of their careers and vital support for local arts and educational organisations, often situated within isolated communities. By combining the resources of the two former Trusts it has been possible to extend the work of the Tunnell Trust to become an even more important force in the musical life of this country.
The Trust is under the Artistic Directorship of John and Wendy's eldest son, Jonathan, a professional cellist.
The Tunnell Trust has a specific remit and is sadly unable to assist individuals with grants for study, nor are we able to make grants to other charities seeking funding.
See our Annual Review for 2022 here!