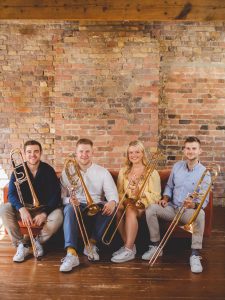 Our next concert was in Crieff for the Strathearn Music Club.
The weather was fantastic with views for miles just south of the Cairngorms. After about 2 hours of driving we checked into the Myrraypark Hotel in Crieff.
In the hotel, there was a bridge playing club. Rob asked the receptionist if any of them would be interested in a trombone quartet concert. Her answer was, quite bluntly "no…."
Despite this, we had around 60 attending the concert. The concert went down well and we had a couple of young trombonists in the audience.
We made our way back to the hotel and enjoyed a couple of hours in the bar.