We're writing this blog from an amazingly isolated farm house on the outskirts of snow-covered Oban! At the time of writing, Monday 12th – we are only four days into the tour but have played half of our concerts.
We met in Glasgow on Friday afternoon and following tetris-style packing of the hire care, we drove to Campbeltown for our first concert of Haydn, Beethoven and (our very own…) Vennart! There we stayed in a lovely hotel which specialised in whisky, including one bottle that is roughly valued at £25,000! We didn't taste that one…but we did enjoy a delicious and much-needed curry at the local Indian restaurant.
From there, we travelled North to Lochgilphead for Saturday's Mid Argyll Arts Association concert at Kilmory Castle. Playing Haydn and Beethoven but also our first full run of Thomas Ades' The Four Quarters. We'll be playing this work to the composer in March when we travel to the International Musician's Seminar at Prussia Cove, and following that at the Wigmore Hall International String Quartet Competition in April. We were happy with our first complete attempt at this technically and musically very challenging piece – but still plenty of work to be done!
A perfect stay with Philip and Sarah Brae (and their spaniels, Tyke and Benny) provided us with incredible views of Loch Awe and the blanket of snow covering the surrounding area. Picture-postcard stuff. We were enthralled by the Brae's incredible conservatory (see below) and entertained by Amy and Philip playing Schubert piano duos into the small hours, on one of two grand pianos!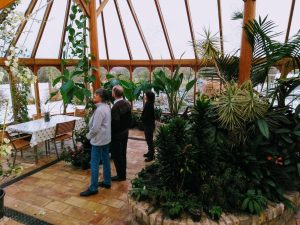 Our third concert in as many days was on Sunday afternoon at St John's Cathedral in Oban. Again we played Haydn and Beethoven, but this time with both the Ades and the Vennart – two contemporary works completely different in style but equally impactful for audiences. Our wonderful hosts in Oban, Jeremy and Carol, last night treated us to a delicious dinner complete with plenty of wine, and also our first taste of Scottish whisky this week. We're looking forward to a distillery day on Islay in a few days…
Thanks so much to all the people involved in making the concerts happen, the various music societies and our hosts – all of whom have made us feel entirely welcome and been enormously generous. We'll be back with more later in the week!