After over a year of planning the Tunnell Trust tour had finally arrived! We decided to fly to Inverness the day before the first concert, which was on Valentine's Day. We could sense love was in the air at Luton airport security…
Unfortunately after trying to land the first time the plane had to fly back up and circle around for 30 minutes due to really windy weather, but we eventually arrived at our hosts houses. James, Gordon, Rhona, Anna and Andrew were all such lovely and hospitable people and made the stay a such joy. They made such amazing food for us as well so we were all full for the concerts.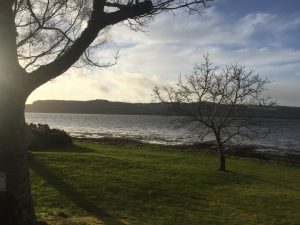 The venue we played at was the beautiful main town hall at Inverness. We played some Danzi, Arnold, Piazzolla, Mozart and a which I've grown on a absolutely love – the Nielsen wind quintet. The last time we played it was on Coll and every time we perform it I notice something new or hear something different. The acoustic at the Hall was gorgeous and resonant which made it really rewarding to play in.
We're now driving down next to Loch Ness to Fort William for our next concert. We saw Nessy!