On Sunday we had a long drive from Edinburgh to Thurso where we settled in our accommodation by the Lyth Arts Centre. The weather was still bizarrely beautiful and even the long hours in the car passed quickly with the stunning views and the incredible food at the House of Bruar on the way.
An early start on Monday was full of excitement for the ferry journey which really didn't disappoint ! The light was from another planet and we let our faces freeze while hypnotised by this amazing view.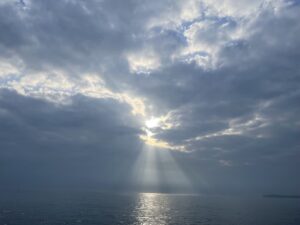 Our brilliant hosts fed us wonderful Orkney cheese and their lovely dog kept us joyful company in the house. We were so lucky to see some of the incredible historic sites that Orkney is so rich in. We spent long hours contemplating on how we can relate to people of the prehistoric times and imagining their lives on the island.
The inevitable highlight (among so many of highlights) so far was the concert for the local children. Not only we had some of our most attentive and engaged audience there but we saw some future talents too! Rosie and I often feel that we play our best when faced with the youngest audiences and this was no exception.
On Tuesday we saw more of Orkney incredible landscapes and made our way from Stromness to Kirkwall. Couldn't help seeing the wonderful Cathedral of the town as well as visiting the famous local cheese and wine shop.
The evening concert was extremely enjoyable and we were proud of the energy and intensity we had.
Some lovely comments from the audience and my young page turner (and an aspiring pianist) made us feel, well, rather happy !