Our first day took us 395 miles, as the crow flies, as we travelled from London to Banchory – taking the train to Edinburgh and then driving north through the stunning landscape of Scotland, over spectacular bridges and through mountain snow. This seemed very apt ahead of performing our programme last night which we had titled 'Across the Pyrenees!'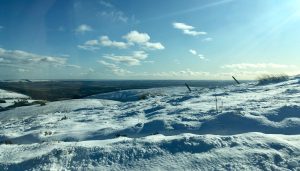 Members of Woodend Music Committee welcomed us at The Barn – a multi-arts centre which, over the last 25 years, has grown to become the largest arts venue in Aberdeenshire. We were immediately taken by the warm, generous acoustic and settled into the afternoon's rehearsal. Then it was time for a short break and for making the most of tucking into local Scottish food before starting the concert. Thank you so much to Woodend Music Society for our Scottish duo debut!
Today we travel to Inverness. We've been warned that a road closure will prevent us from taking the most picturesque route, but even so we are sure we aren't going to be disappointed by the scenery – everywhere we look on our journeys could be a painting!
Bags packed, Sat Nav set, here we go!