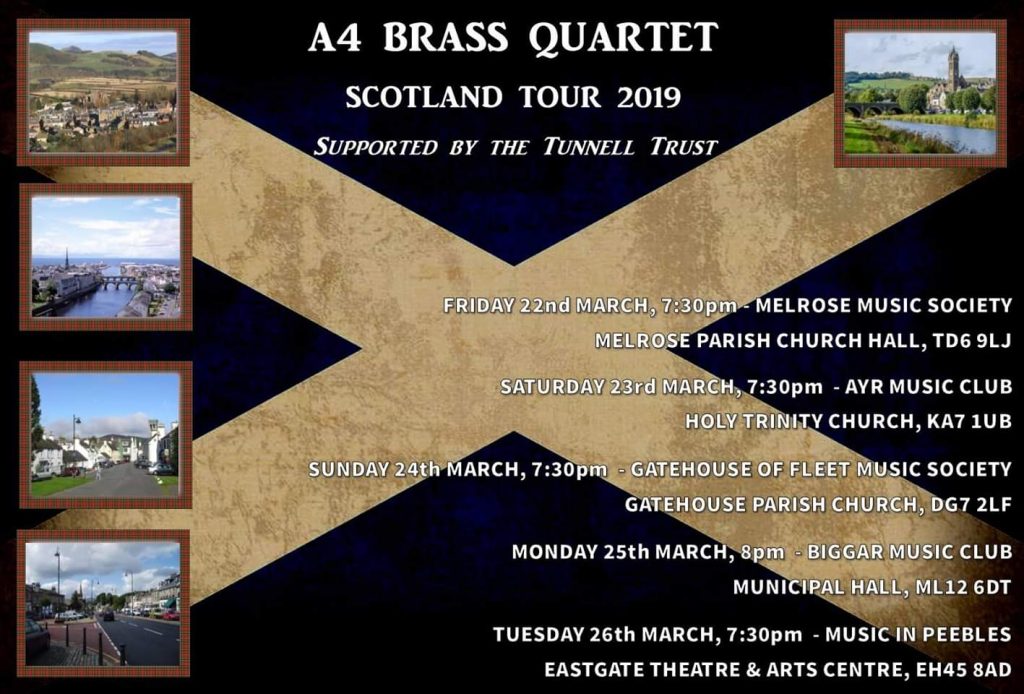 Day 1: Melrose
The tour started with the long drive from Manchester to Melrose on Friday 22nd March. This is only the second time we have been north of the border as a group and we were looking forward to performing five consecutive concerts around the Borders and South West of Scotland.
Melrose was the first stop and after arriving at 5.30pm we found the church hall in which we were to perform. Jonny Bates, our tenor horn player, has come up with a brand new concept for our concert's second half, breaking away from our more traditional format. The "set" is a through composed quasi-operetta titled "Alone at the Opera". It features music from classic opera as well as popular music and a touch of Argentina for good measure.
Upon arrival to the hall we found minor logistical challenges relating to the set! We had trialled the concept in our two previous concerts in Helensburgh and Abergavenny and whilst both venues were quite different, they had plenty of space and good access on and off stage, which we have incorporated into the half. In a church hall there is very little room to manoeuvre! Fortunately the hall had some big pinboards we could use as "wings" alongside our A4 banners to create an offstage section on each side of the performance area. After rehearsal, quiche and sandwiches, the hall was opened for the audience to take their seats.
With chamber music you never know how many you might get attending your concerts, especially in a brass group! This was the final concert in the Melrose Music Society's series, and after extra chairs being found, the 82-strong audience packed into the Parish Church Hall.
We began with our signature opener Toccata and followed with the Scottish-inspired South Uist Variations by Oliver Waespi, both of which feature on our debut album that is available on our merchandise stand. The audience was very close to us throughout the concert and this created a really strong and positive link between performer and listener. This was also one of our most receptive and welcoming audiences, which bodes well for the rest of the tour! Jonny was our first half soloist, playing Concert Étude and we also featured choral music from Kentaro Sato, traditional Scottish music, and the Finale from Mendelssohn's 4th Symphony.
The second half went down a treat despite the initial problems! Having the audience so near gave us lots of energy to feed off, and was encouraging that our comedy was well received! This concert was extra special for me as it was the first time my mum and two brothers had heard the quartet live, whereas the parents of the others have been present at many of our concerts. It was also fantastic to go to a local pub with the three of them and the rest of the quartet to relax after a day of travelling and playing. We were staying in host's houses and were treated to a wide variety of local beers, lamb casserole and great company, before a breakfast of smoked salmon and scrambled egg in the morning! We could get used to this!!
The biggest leg of the tour next, Melrose to Ayr.
Chris Robertson
22/3/19