From Richard:
I write to you from the Costa Coffee at Southampton Airport, where Savitri and I are on our way to Guernsey for masterclasses this afternoon and a recital tomorrow. Did you think you'd heard the last of #BEETHOVENESCU? You haven't!
Tomorrow's concert is a repeat of our programme from a few days ago, and somehow this feels remarkably easy in prospect after the intensity of five different programmes over five consecutive days.
We had a wonderful time finishing off our Beethoven sonatas cycle with Pollok House Arts Society last night. We didn't play in Pollok House as we'd thought we would, but, rather, in the so-called 'House for an Art Lover' nearby. This turned out to be an unexpected treat. The house was designed by Charles Rennie Mackintosh and Margaret Macdonald Mackintosh for a competition run by a German magazine in 1901. Their entry was disqualified for being late and unfinished, but much later – in 1989 – work began on realising the plans, and the house was completed by 1996. It's full of the detail and style that are hallmarks of the Mackintoshs' work, making each room exciting to discover. It would be hard to top the recital room, which had an ornately decorated piano built into one of the walls (see below, at the back), but the room we were given as a green room had a bathroom hidden behind the wall-panelling, and as such was also seriously cool.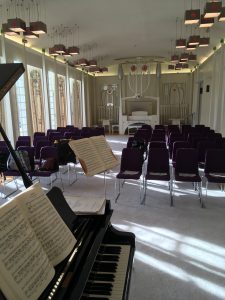 There was a big dinner afterwards which, so far as I could tell, all of the audience stayed for, and I really enjoyed being able to chat at length to some of the people who'd listened to us.
So what next for #BEETHOVENESCU? Well, we have a number of concerts coming up soon, including Guernsey tomorrow, Weston Music Society later this month and Kettle's Yard in Cambridge in May. In 2020 we're presenting two 'immersive' days at Stapleford Granary (in February and October), with talks, demonstrations and workshops, focussing on five of the Beethoven sonatas each time. We have various other plans for 2020 and beyond too, so watch this space.
Huge thanks to the Tunnell Trust for arranging the tour for us, which has worked so well and given us a fantastic opportunity to realise a project we've loved doing. Thanks too to the promoters connected to each venue, who've each helped us out in kind ways and given us a really entertaining and memorable time in Scotland.