After so much planning and worrying about all the things that could have gone wrong on the tour we are incredibly happy, somewhat surprised and definitely relieved that the tour was able to go ahead this time and that everything went smoothly and according to plan! In fact, once I was on the train home after the tour I was so relaxed that I managed to leave my suitcase with all the recordings on the train… Long story short it's all with me now!
As I mentioned in our previous post we were very excited to perform to a live audience, and from the warm welcome we received at each concert the audience probably felt the same! We had a lot of people come up to us after the concerts to tell us how much they've enjoyed our playing and how much they've missed the spark of live performances the past few years! Some others messaged us directly, some expressed their gratitude through their music society, and as you can imagine all of this is the reason why we do what we do, it is so rewarding to get this sort of feedback after all the hard work to bring these amazing pieces alive.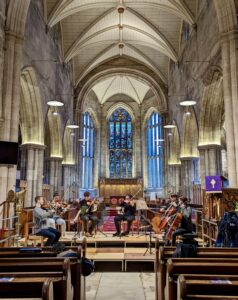 That alone however, as great as it is, wouldn't be enough to make these concerts happen so we owe a huge thank you to the Tunnell Trust and all the music societies for their support, for creating this opportunity, for their help organising the concerts and for going the extra mile providing us with delicious meals, homemade cakes or a wee dram at the hotel!
This being our first tour, we had some new experiences that have been very valuable to the group. For example having the chance to perform the same piece multiple times over a few days gives us a platform to experiment and improvise. However to me perhaps the most valuable part of the tour was that we became even closer friends than before. The long (and beautiful) drives gave us a rare chance to bond over meaningful conversations and we even had time to visit the Glenfinnan Viaduct to slow down and appreciate the view! It was a week we'll definitely look back to fondly.
Thankfully we don't have to wait too long until the next part of our tour which will be in November with a slightly different programme! In the meantime if you would like to see where we play next feel free to check out our website at broenensemble.co.uk.
Broen Ensemble