Before the concert in Newtonmore, we went to have lunch in a traditional roadside diner with a backdrop of the mountains of Cairngorm National Park.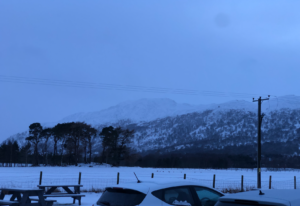 After we had our lovely meal, we managed to fit in a snowball fight before heading to the venue for our evening performance. The storm that had recently passed brought a serene atmosphere to the picturesque town. We very much enjoyed the concert, and the audience was very receptive.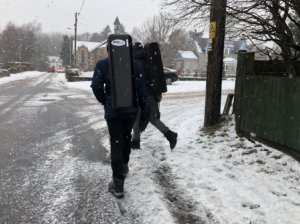 Our next stop was Nairn, an old fisherman's town on the west coast. It was wonderful for all of us to recharge and walk along the sandy beach.
The concert was held at the Nairn Community and Arts Centre, a lovely hall with great acoustics. As soon as we walked in, we could feel a special atmosphere. We had yet another friendly and very welcoming audience which, combined with the fantastic venue, made our performance in Nairn especially memorable.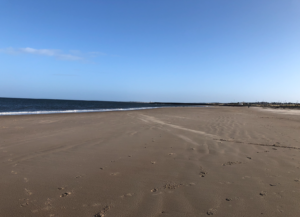 The next morning, we set off early for Cromarty, stopping on the way at Chanory Point for a walk along the beach to try and spot some dolphins! Unfortunately, the wet and windy weather cut our walk short and no dolphins were to be seen.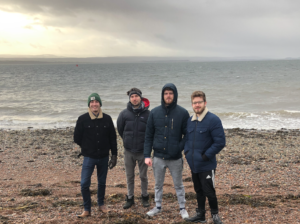 Later that day, we made our way up the hill to the venue, a lovely renovated stables converted into a quaint arts and concert venue. This was the only afternoon concert of the tour and it provided some new challenges. Having performed at the same time each night prior, we had to rethink what had become something of a routine. Everything felt different, from having daylight pouring in through the windows to the engagement of the audience. We found it thoroughly enjoyable, and very interesting to mix things up. Afterwards, we treated ourselves to the delights of the local pizzeria which we all thoroughly enjoyed whilst relaxing with some wine and a good film.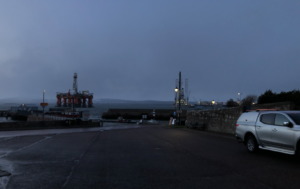 Our final concert day had arrived. We practised in the morning before heading south to Aberdeen. After arriving we quickly changed and headed to Queens Cross Church for our final rehearsal. The church had a fantastic platform and excellent acoustics. Again, we could feel something very special about this atmosphere. Having the opportunity to play this music in so many beautiful and inspiring places is something we'll never forget. We had taken so much from every one of the concerts we had given, and the wonderful people we met along the way. Our final concert in Aberdeen was emotional, and it was lovely to stay and talk to some of the audience afterwards.
We hope to return to Scotland very soon and would like to thank the Tunnell Trust for awarding us this life-changing opportunity, and to all the people behind the scenes at each club that made it happen, and our trip so beautiful.
Bye for now!
Elmore String Quartet