The last few days have sped by!
We performed the 1st and 2nd Movements of Butler's Down Hollow Winds (DHW) to the other ensembles in an informal concert and were treated to some classical string repertoire which we were totally inspired by in return.
We have had fantastic coachings from Tim Brown (and a surprise coaching from Jonathan Tunnell) and we are really looking forward to performing all our repertoire in the 3 concerts during the week.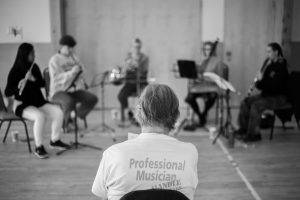 (Photos taken by the talented Inis Oírr Asano)
We've had some turbulent rehearsals due to the atmospheric pressure and occasion rain affecting our tuning (especially the reed players), but we are always up for a challenge!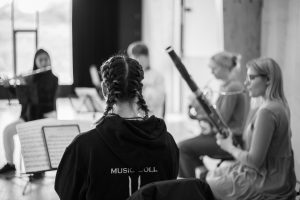 A very unofficial Grade 1-athon is well underway with intensive private lessons from every member crammed into the schedule each day. The new and improved Sylva Winds lineup is as follows:
Flute – Rowan
Oboe – Zoë
Clarinet – Guylaine
Horn – Drake
Bassoon – Yi-Hsuan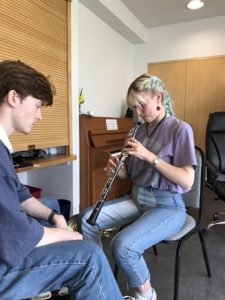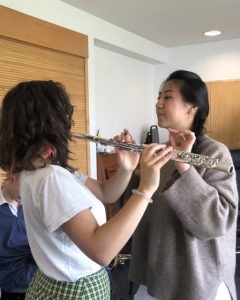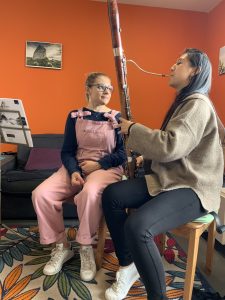 You can find a riveting performance of bars 1-4 of t
he 1st Mvt of Butler's Down Hollow Winds on our instagram – @sylvawinds – and we look forward to having the chance to present this alternative ensemble to
the staff and our colleagues here on Coll at the end of the week…
Three of us so far have purchased Tunnell Trust merchandise (photographed here) and plan on wearing it for the rest of the week, so you will spot it more often from now on!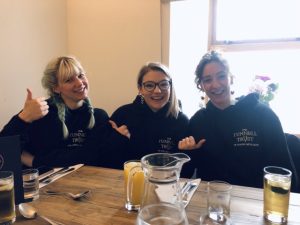 Thanks also to Yi-Hsuan, who over the last few days has been another guiding influence  teaching Mandarin inflections and pronunciation
alongside Alexander Technique to her willing students (us).
In other news Jonathan Fong from (Asaka Quartet) had a masterclass with Drake in stone skimming yesterday evening, which they both enjoyed very much – another crucial skill to pick up while on the island.
Tomorrow will be the last day of rehearsals before the concerts begin, and we can't wait!