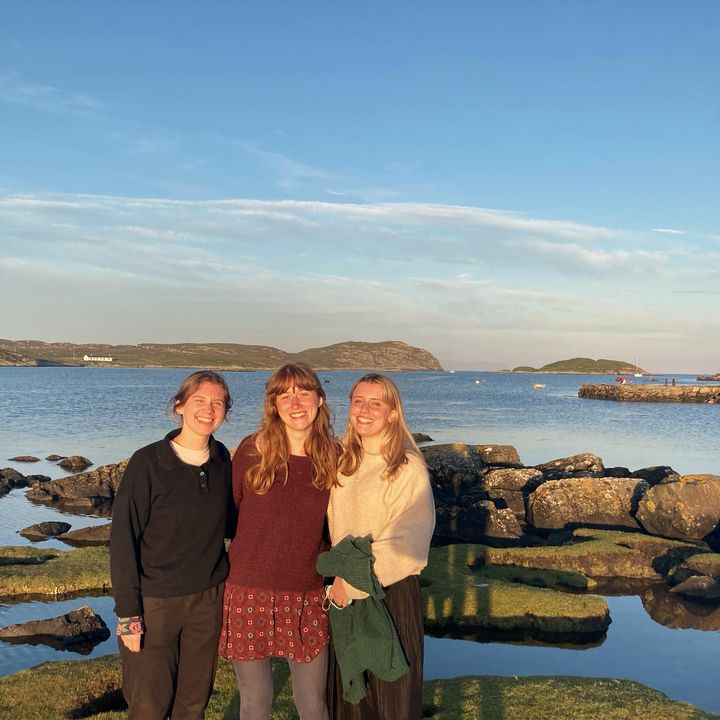 Rosie
After a year of zoom rehearsals and sporadic periods of being able to play together, I have been so excited at the prospect of a whole week spent together. Since arriving on the beautiful and serene Isle of Coll we have been warmly welcomed into such a close community. I feel particularly touched by this after year of isolation. Being reminded of the impact music has on people and communities has reignited my excitement and passion for chamber music. Additionally, escaping to such a remote place has allowed me to momentarily forget about the busyness of student life and truly focus on connecting with each other through our music. Being surrounded by Tutors with such love for music has been inspiring and uplifting. I am really looking forward to performing the music we have been closely working on in the concerts at the end of the week.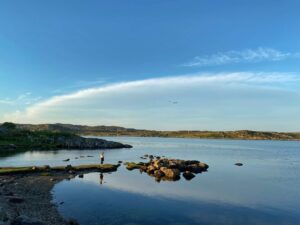 Eliette
Throughout the past year I have become accustomed to readjusting to cancelled plans. However, over the past few months the idea of travelling to the Isle of Coll for the Tunnell Trust Chamber Course seemed within reach and I found myself really investing in a plan for the first time in a long time.
Although we have been lucky to meet and rehearse this year, it has been very fragmented and so far from our way of working pre-covid. We've been on the Isle of Coll since Saturday and we've slowly been adjusting to intensively working together again. It's been such a privilege to be given the space to re-learn and progress our way of playing as a Piano Trio.
We've been studying some amazing repertoire over the past few days (Brahms Trio No.1, Haydn Trio A Major Hob.XV:18, Beethoven Piano Trio No.3) and it's been wonderful to work with and play to the incredible tutors here. The Tunnell Trust Music Coll feels unique in its atmosphere and the surroundings more beautiful than we could have imagined. Our time here has certainly felt very special and we can't thank the Trust enough for inviting us.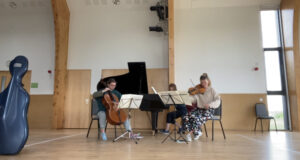 Jasmin
After what has seemed like the longest year, the Tunnell Trust course has so far been a breath of fresh air. As with most musicians, we've spent our time mostly on our own, living a musically sparse life, and desperately trying to feel enthusiastic about live streamed concerts. Two very early starts, a tram, two trains and a ferry and we had arrived on the Isle of Coll. I felt refreshed. I'd never before ventured more remote than the Scottish Highlands and here I was in the back of beyond; complete paradise. The pace of life had gone from 100 to no more than a 5 and I was able to breathe deeply for the first time in months.
I also wasn't sure that intense chamber rehearsing and coaching was what I needed and yet a day in and I already felt renewed. Playing live music with other people brings a special kind of joy which I hadn't experienced since our last concert pre-covid in March 2020. Not only playing together but receiving guidance and advice from the most interesting and insightful musicians. Reliving old repertoire (Brahms B major trio) and exploring new pieces (Haydn trio in A major) has filled me with a hunger to play again, especially playing on the wonderful Bosendorfer grand piano they had hired in for the week. I already feel more assured in myself, more excited to try new things and completely desperate to get back to the piano. A few days of proper music making and I have been reminded of why those months of practising in a room by myself have been worth it. I would love to thank the Tunnell Trust for such a special opportunity.