It was the most stunning day to drive from the West coast back to the east! But firstly, we made sure to take a walk in Helensburgh and take in as much sun as we could.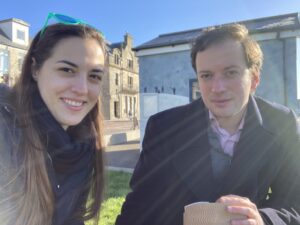 Also, we may or may not have had waffles and ice cream for breakfast…
We drove on beautiful smaller roads and avoided the motorway altogether so we can really take in the views.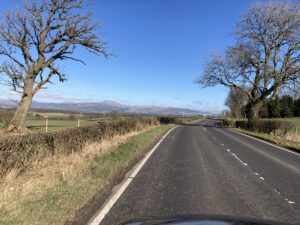 We played an afternoon concert at the Dollar Academy, surrounded by birds and hills. After the first half, a man came to speak to Mihai to say that he came to the concert with his mum not knowing what we were going to play and was hoping to hear the Debussy sonata. So, when Mihai played the opening statement, he was just ecstatic! I love talking to the people who come to listen to us. It's always a very special connection after you've already communicated in music.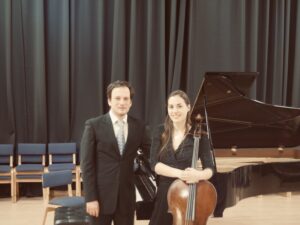 This photo was taken by the absolutely lovely Caroline who runs the Dollar Music Society.
After the concert, we enjoyed a little stroll along the river and Yoanna was absolutely taken by the smell of food at the end of the road. Well, more precisely, the smell of food and nature combined in a perfect perfume.
We followed the smell, and found a little Japanese restaurant that had just opened and was only serving food to take away. So, we made the best out of it. Can't think of a better restaurant setting in that moment!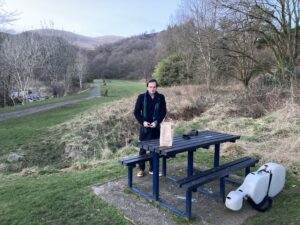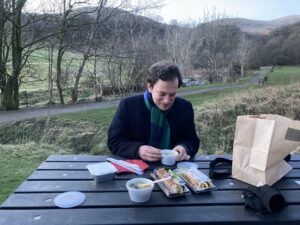 Then, we drove back to Edinburgh… 
It was an unforgettable week. We will miss Scotland dearly, both for the stunning views and incredible, warm, open-hearted people we made friends with. It was a dream come true performing so many concerts in a row together, and playing music we love deeply.
Thank you to the fantastic Tunnell Trust for this adventure! 
Stay tuned for a couple of extra posts…