From Richard:
Dear reader(s)
I write to you from Dressing Room 2 of Falkirk Town Hall, whilst I await the curtain call for tonight's recital. Unfortunately I won't be able to post this until after the concert, as I have no internet access here. I noticed on the way into the hall that Psychic Sally will appear soon at this very venue (our poster is the much smaller one on the left): it's a pity she isn't here tonight as perhaps she could have provided me with the WiFi code, which would have meant I could have reached you sooner.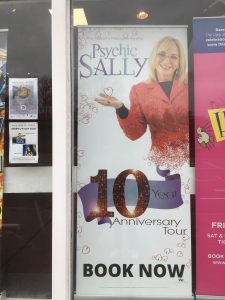 Yesterday we had a lovely time in Glasgow, as Savitri detailed. In fact the Erard she mentioned was allegedly played by Chopin himself when he visited Glasgow! I treated myself to playing the opening of the Polonaise-Fantasy on it during our rehearsal. On the concert organiser's recommendation we went to the Ubiquitous Chip afterwards, where we had a fabulous lunch (I had the vegetarian haggis), before travelling to Falkirk. Today we're feeling very relaxed, having had a perfect morning eating, drinking coffee and practising at our hosts' house before a driving tour of Falkirk that took in The Kelpies (below) on the way to the venue.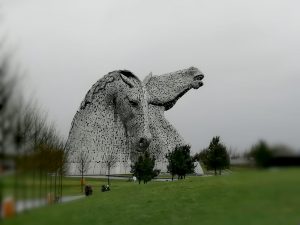 Tonight we play Beethoven op 12/1 and op 47 (the "Kreutzer") alongside the Enescu. Both of the Beethovens happen to be sonatas we worked on with Anthony Marwood. I made notes after our sessions with him, so I could tell you bar by bar what he said in some places, but I'll save that for some other time. One focus of our work that I will share now, and that will certainly remain front of my mind during this performance, is the old idea of making aspects of the music sound spontaneous. There are unique challenges to this in Beethoven because of how logically worked out his music can appear. There's a huge difference, however, between a performance that seems as if it's evolving in real time (where Beethoven's 'logic' comes across as continuous organic development), rather than one where everything sounds inevitable (and therefore, perhaps, predictable). It's the former we'll be aiming for tonight. Even Psychic Sally won't be able to predict what's coming next.