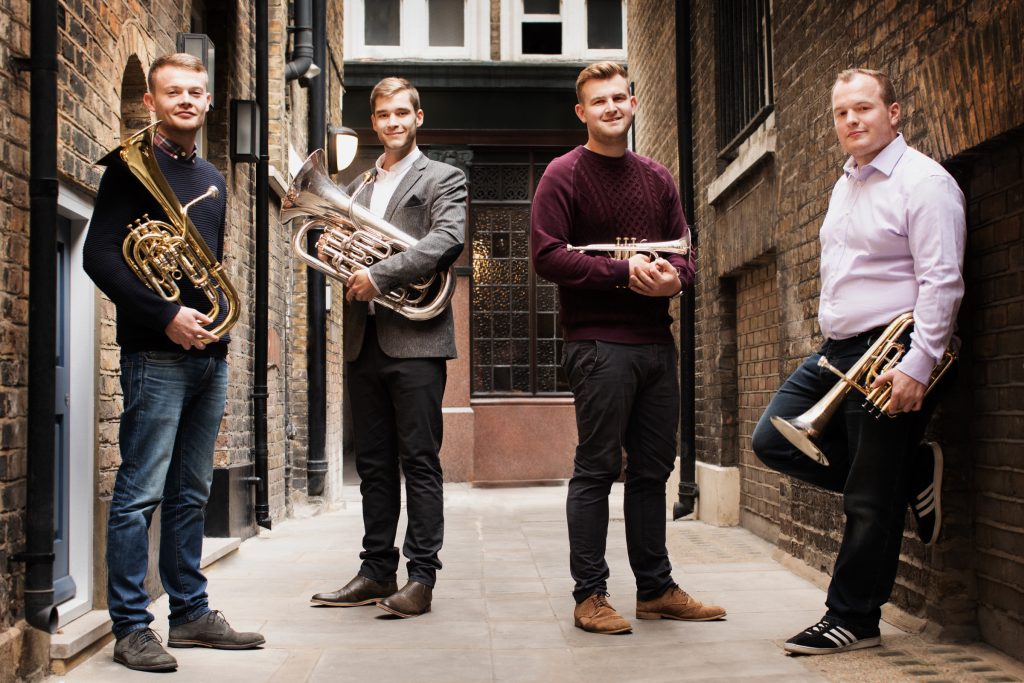 Skirling House has to be the finest accommodation we have had as a quartet. Bob and Isobel Hunter were our most welcoming hosts and we were treated to an incredible breakfast in the conservatory with a view of the grounds.
Today's journey was the shortest of the whole tour, from Biggar to Peebles so we had all afternoon to relax before the final concert. We also had a hotel for the night instead of host's houses, meaning we could check in our luggage and were in the centre of town, 2 minutes walk from the concert venue, the Eastgate Theatre.
We arrived and went for a walk around the town, stocking up on local treats as well as finding a lovely wine and spirit shop for Mother's Day presents! Rehearsal at the theatre was a quick one but we were able to add lots of final touches as the stage had really good access on and off. Tuesday evening is the rehearsal night of the Peebles Borough Bands and we had organised a workshop with the youth band prior to our concert. Small in number but very enthusiastic, the band played through a couple of pieces whilst we all sat in followed by a training session led by Jonny where we talked about breathing, tongue and dynamics. We love working with youth bands and it's great to see community banding as strong as it is in the Borders. Peebles Youth Band players were also given free tickets to our concert!
The final concert was probably our most enjoyable of the tour. The largest audience by far (120) was the result of fantastic advertising from the society Music in Peebles and really does make a difference to us musicians when performing. The theatre was a great chamber music venue and it was nice to see some familiar faces in the audience from many of the local brass bands. Definitely a fitting finale to our Scotland Tour, and a pleasure to end the Music in Peebles Concert Series for this season.
Our post-concert routine is super slick now due to all of these consecutive gigs! Jonny and Mike straight out to the merchandise stall whilst Jamie and I pack down and clear the stage. Jamie drove home after the performance for work on Wednesday morning leaving the three of us to enjoy our last night of the trip with some local beverages, Brewdog and Tennent's!
This tour has been particularly special for me, seeing lots of old friends and my family as well as bringing our unique sound and music to my home nation. Travelling to some of the nicest towns and villages around the Borders & South West of Scotland and sampling plenty of local food, drink and culture, it has been incredible.
Huge thanks to Jonathan Tunnell and the Tunnell Trust for this opportunity, we hope to be back soon! 🏴󠁧󠁢󠁳󠁣󠁴󠁿
Chris Robertson
26/3/19