As we gathered in London at 7am to begin our long drive up to Scotland, we were all so excited to be escaping the city for a week of intensive music making at Music Coll 2021. We had a great drive up, talking about the week ahead and the beautiful island we would be living on for the week. We then had a lovely lunch at the independent Tebay Services in Penrith, and later stopped off at Loch Lomond to enjoy the breathtaking scenery before driving through the mountains to Oban. We then had our second early start in a row to get the ferry across to Coll. It was well worth it as we watched the sunrise sailing away from the mainland and past the Isle of Mull, spending the whole journey on deck embracing the sea air (though George and Ellie took their their full Scottish breakfast inside!).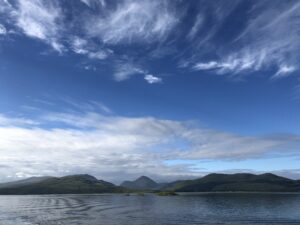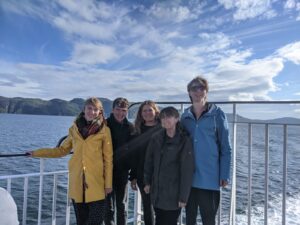 As we arrived on Coll we were greeted by Jonathan and David from the Tunnell Trust and were shown around An Cridhe. We then had our first coaching with Tim Brown which was amazing. We worked on the Nielsen Quintet and Hans Abrahamsen's arrangement of Tombeau de Couperin, working to find a balance and flow that would help foreground the material that needs to be heard.
A few of us went on a short walk before dinner to explore the island and were accompanied on our journey down the seafront by an inquisitive seal! Dinner was provided at the Island Cafe by Heather and her wonderful team – the perfect end to a long day of travel and hard work.